Where the magic happens...
Get your mind out of the gutter!
I am talking about my craft room!
Fair Warning this is going to a very picture heavy post -- you have been warned!
Sheesh!!
So about 2 years ago I got my craft room in great shape
And it stayed that way for a little bit...
But then the pics below happened...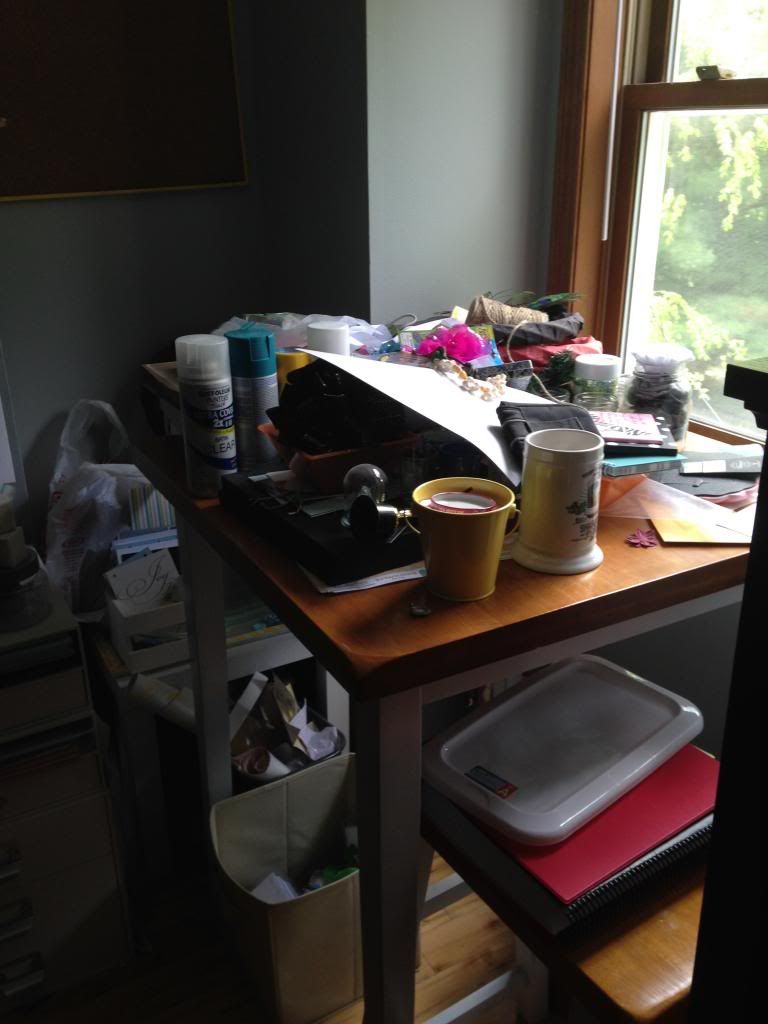 Yeah I can't believe I am even showing you these!
I am not proud of it, but I tend to procrastinate and hate to do things right now but would rather do them later...
Reality is later rarely comes...
But eventually I was forced in to making shit happen and here we go...
Here is a pic of all the stuff I threw out or donated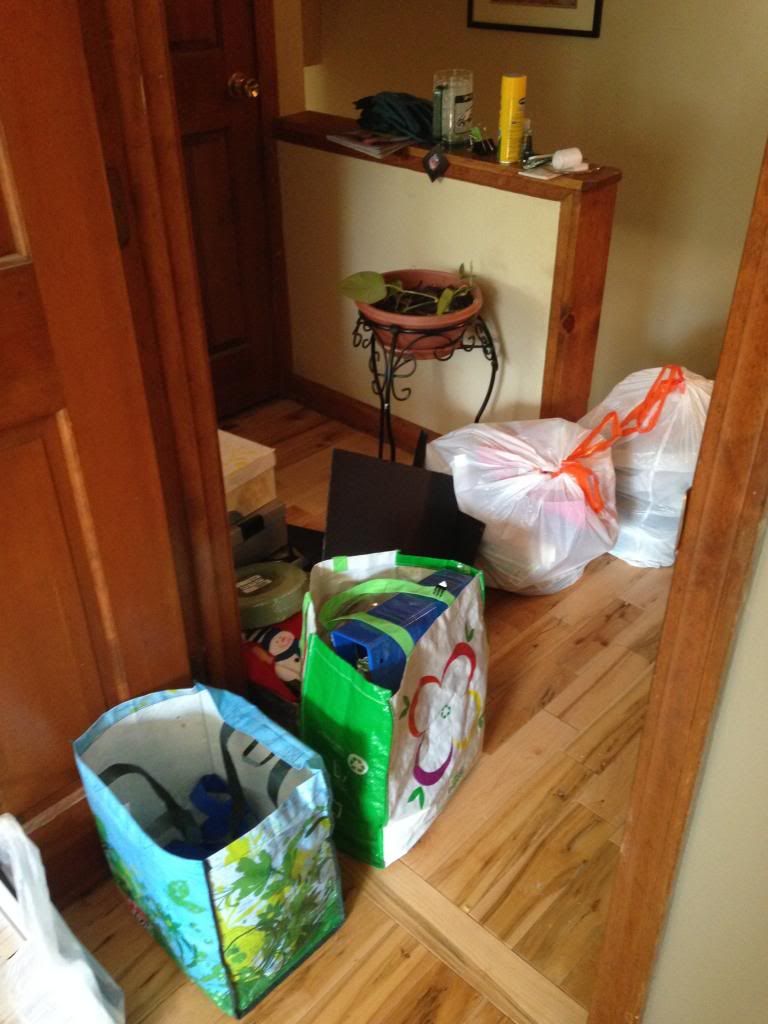 And now for the after pics
My
Silhouette Cameo
now has a permanent home!
I love being able to to use in one place instead of hauling it up and down stairs to use with the lap top!
Also funny story about this desk -- when we moved in to our house we thought it was a great idea to try and carry this up 3 flights of stairs on our own... yeah we have the dings and dents on our walls 4 years later and it remains one of our favorite trial of our relationship stories lol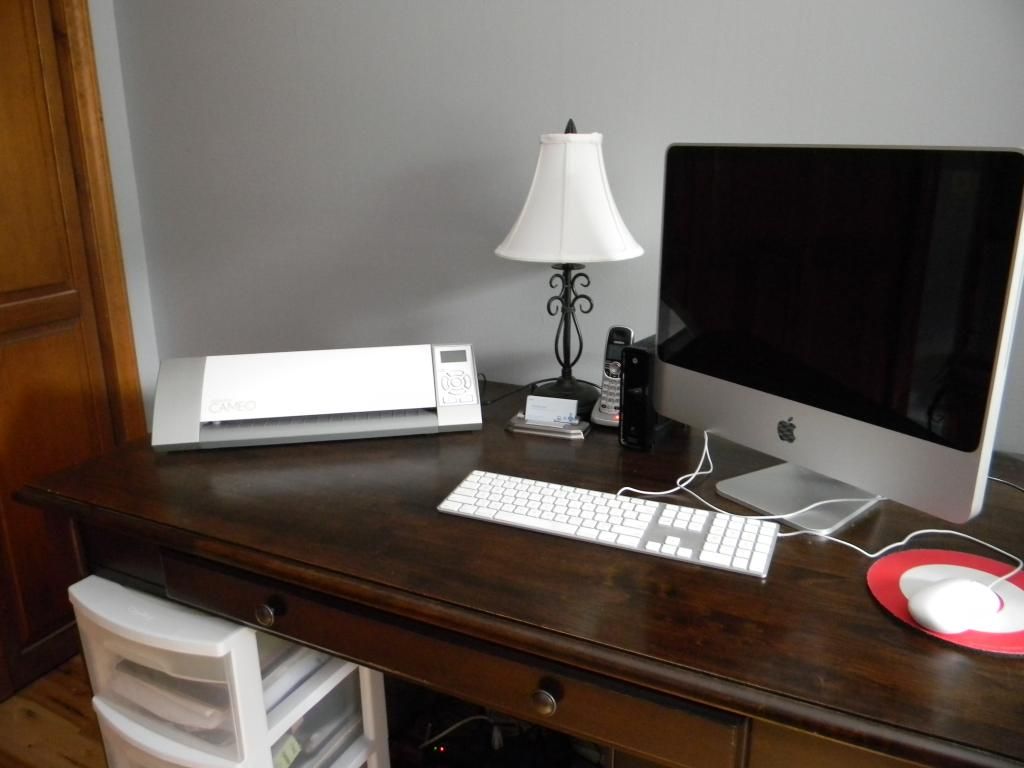 This is the husband's going away gift when he left his last store and he wanted to be able to use it so we put my business cards in it lol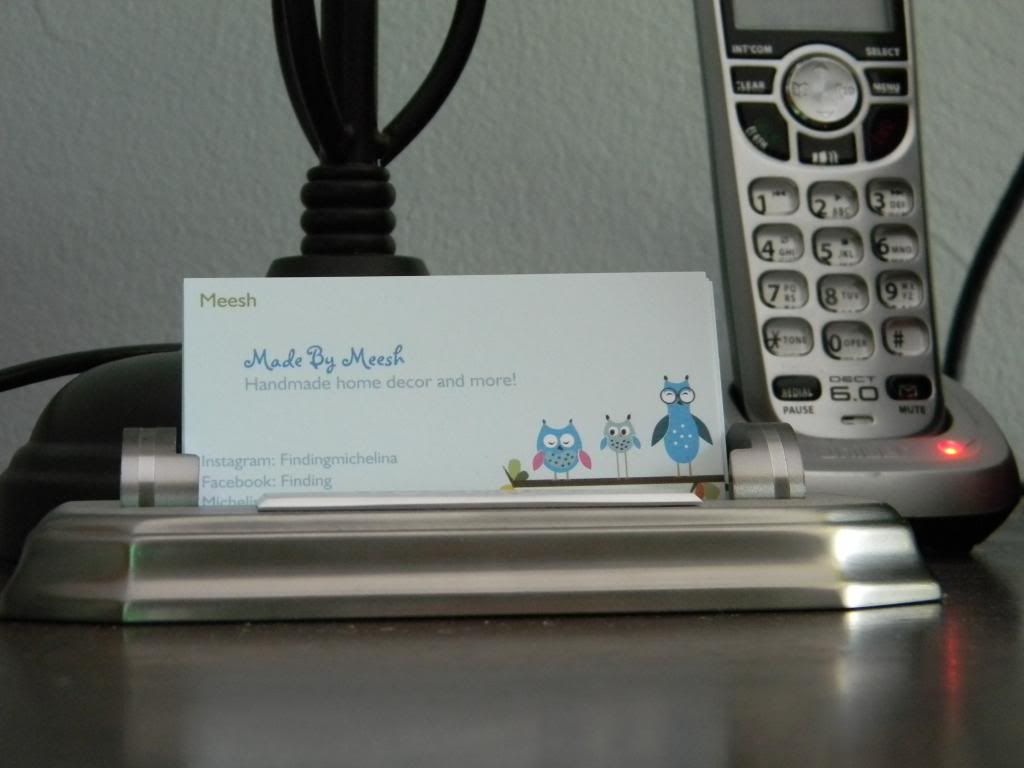 My bookshelf serves dual purpose -- lower 2 shelves hold actual books and some decorations that mean a lot to me and the top shelf is holding a few odds and ends.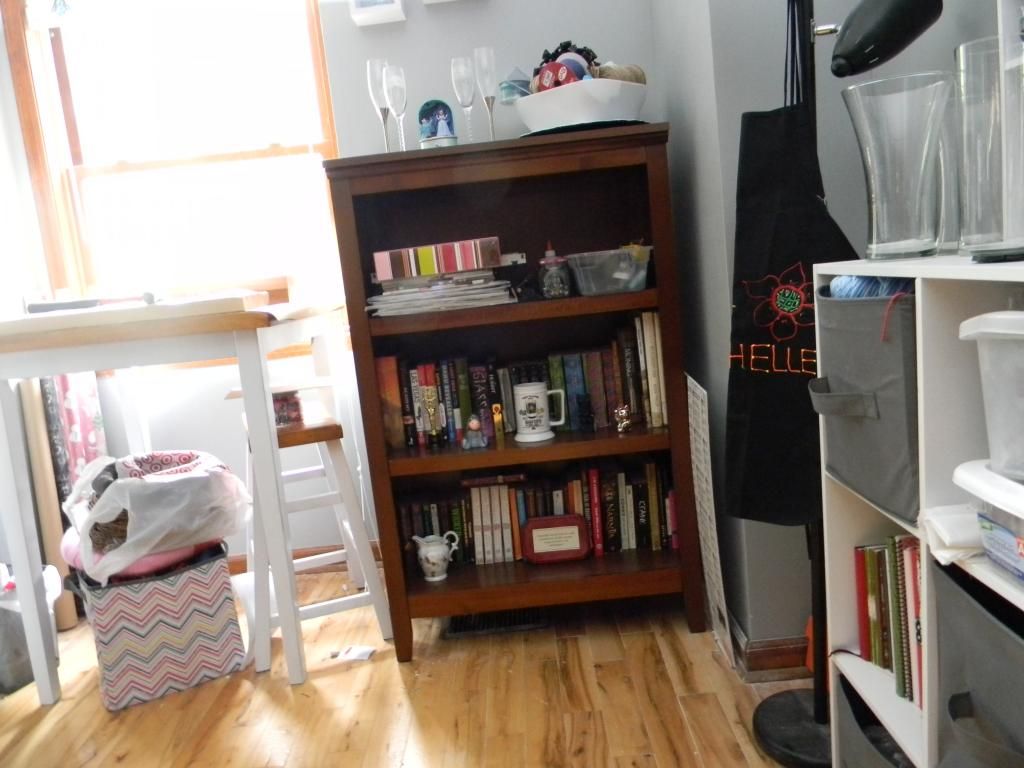 Here is a close up of the top of the bookshelf and the wall above
Ribbon is part of the decor which I love
And those 2 hand knit birds were my cake topper made by a high school friend of mine for our wedding!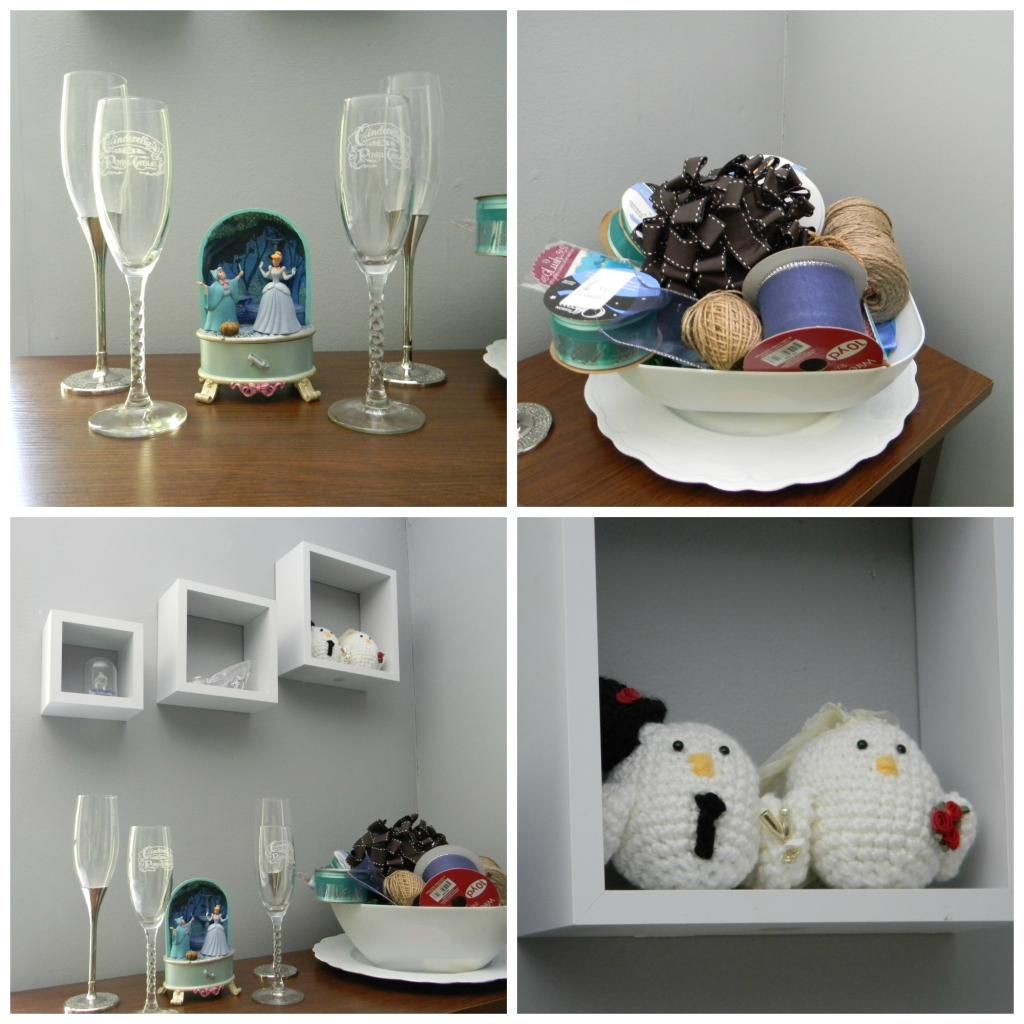 This sits on the wall to the right of where my desk is
Each bucket is home to a different item: measuring tape, half made projects, pens/pencils, ribbon scraps and all my scissors and craft utensils
I absolutely love this shelf!
I collect shot glasses so this provided a display for those and the bottom part is the majority of my supplies.
Each tote holds different things: yarn, fall decor/craft items, spring/valentines day, Christmas, pictures supplies and the ones without totes has my large collection of notebooks, jewelry making stuff, birdhouses lol and all my wooden letters, frames etc.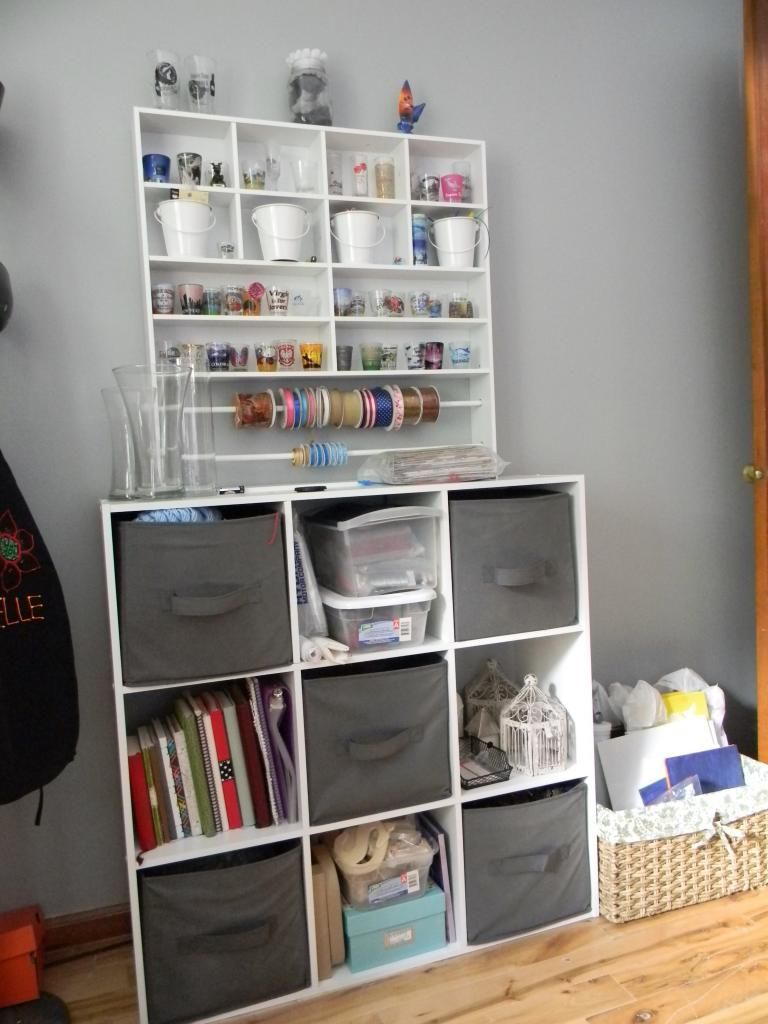 This sits by the door and holds all my canvases, my vinyl and transfer tape!
And last but not least my shelves that are right next to my desk and under the shelf on the wall holding all the buckets
The top tote holds momentos that have no home as of yet, the bottom holds all my pants
The 3 sets of shelves/drawers houses my printer on top, scrapbooks, stamps/stickers and adhesives for scrapbook, scrapbook paper for about 3 drawers and then cards.
There is also a table that I use for my projects but it is currently covered in projects and a corner with a table that houses more paints/gesso/spray paint, frames, etc all in baskets!
So thanks for sticking around if you did and welcome to my happy place!!
Any questions let me know!
-Meesh :)